Till i go to the city in 2 weeks to buy grains for fitzgeralds irish style.
I ran a sugar wash to make some vodka and decided to flavour it a bit. i found a site called vodkaphiles with a few recomendations.
ill post the link after the pictures
These 4 are flavoured with black pepper--orange peel--anise and coriander. there are other recomendatins but we didnt have the ingredients. This is after about 18 of the recomended 24 hour infusion period.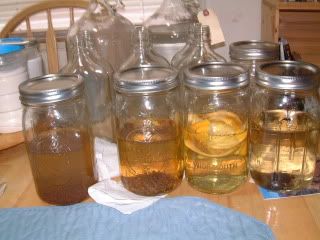 this is some of the plain vodka. I really hoped i could find that turkish vodka with the licorise and pepper that davidh had mentioned; but noluck so far.
here is the website with the infusion method and recomendations
http://www.vodkaphiles.com/flavor.cfm